Supplies
1 tube of choice - I used the adorable artwork of MediEvil Creations. You can visit her blog
here
Font of choice - I used Cricket
here
Amy & Leah's Mask 2
here
Plug Ins:
Mura's Mesiter - Cloud
"Dorm Room Drama Queen" is a scrap kit created by Lillian of Sunshine Scrap and is part of a collaboration that can be purchased at
TKO Scraps
and is available in tagger and full size
. You can visit her blog
here
.
Thank you Lillian for your fun contribution!
This tutorial was written assuming you have a working knowledge of PSP.
~♥~ Let's get started ~♥~
Open up a 700 x 700 blank canvas.
Flood fill white.
In your color pallet set your Foreground and Background in shades of sky blues.
Copy and paste Summer Frame as a new layer.
Click inside each circle with your Magic Wand.
Selections/Modify/Expand by 4.
New Raster layer below the frame.
Apply Mura's Meister - Cloud:
Use default settings
Click the Reset button.
Deselect.
Add your embellishments. I used:
Dorm Drama 4 - From Medi's folder
Flower 3: Resize 60%
Banner
Highlight your white canvas.
New Raster layer.
Select All.
Copy and paste Paper 1 Into Selection.
Deselect.
Apply the mask.
Merge Group.
Highlight the banner element.
Apply the mask.
Merge Group.
Add your copyrights.
Add your name:
Give it a slight Inner Bevel: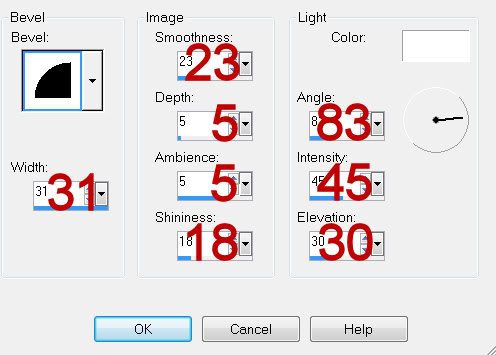 Give elements of your choice an exaggerated drop shadow.
Resize all layers 80%.
I hope you enjoyed this tutorial.
I'd love to see your results and show it off in my gallery.
Email me!
Hugs,
Bev