Supplies
1 tube of choice - I used the artwork of Jennifer Janesko which can now be purchased from
CDO
. You must have a license to use.
Font of choice - I used Ecolier
here
Becky Mask 23
here
"Dorm Room Drama Queen" is a scrap kit created by Lisa of EAL Designs and is part of a collaboration that can be purchased at
TKO Scraps
and is available in tagger and full size. You can visit her blog
here
.
Thank you Lisa for your fabulous contribution!
This tutorial was written assuming you have a working knowledge of PSP.
~♥~ Let's get started ~♥~
Open up a 700 x 700 blank canvas.
Flood fill white.
Paste the following elements on your canvas and move into position - see my tag for reference.
13
4: Resize 80%/Free rotate Right 90 degrees
10
14: Resize 70%/Free rotate Left 5 degrees
9: Resize 60%
3: Resize 50%/Mirror
Copy and paste Element 6 as a new layer.
Use your Freehand Selection Tool and outline the top mirror.
Copy and paste your tube as a new layer.
Position it over the mirror.
Selections/Invert
Tap the delete key.
Selections/Modify/Inside Outside Feather:
Both checked
Feather amount: 23
OK
Tap the delete key a couple of times.
Deselect.
Change the Properties to Multiply.
Duplicate/Flip
Position over the bottom mirror.
Merge Visible the tubes and mirror layer.
Resize 70%
Highlight your white canvas.
New Raster layer.
Select All.
Copy and paste Paper 4 Into Selection.
Deselect.
Apply the mask.
Merge Group.
Duplicate
Add your copyrights.
Add your name:
Give it a slight Inner Bevel: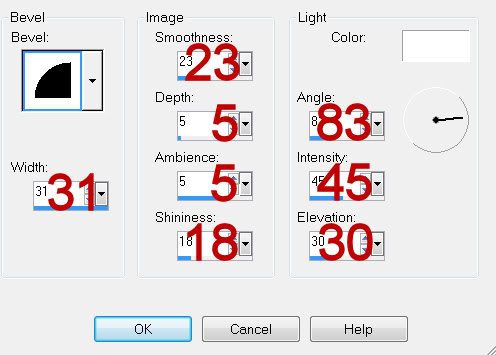 Resize all layers 80%.
I hope you enjoyed this tutorial.
I'd love to see your results and show it off in my gallery.
Email me!
Hugs,
Bev