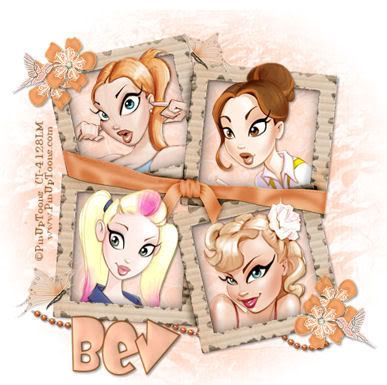 Supplies Needed
4 Tubes of choice –I'm using the artwork of PinUpToons
which you can purchase
here
Font of choice - I'm using Baby Kruffy
here

I used Vix Mask 100
here
"New Beginning" PTU taggers kit by Baby Cakes can be found on her blog
here
and can also be found at
Cotton Candy Kreations
.
This tutorial was written assuming you have working knowledge of PSP.
~♥~ Let's get started ~♥~
Open a 600 X 600 transparent canvas. Flood fill white.
Copy and paste Frame as a new layer. Resize 60% Using your magic wand, click inside the frames. Selections/Modify/Expand by 4.
Copy and Paste a paper of choice as a new layer beneath the Frame. Resize 60%. Selection/Invert. Hit the delete key.
Copy and paste your tubes as a new layer above the paper layer into each frame. Hit the delete key.
New Raster Layer. Effects/3D Effects/Cutout:
Vertical and Horizontal: 5
Opacity: 35
Blur: 25
Color Black
Fill interior with color unchecked.
Repeat accept change the Vertical and Horizontal number to -5. Merge down. Deselect.
Close out your white canvas. Merge Visible. Open your white canvas back up and highlight the merged layer.
Copy and paste Pretty Blossom as a new layer. Resize 30% and move to top left corner of frame. Duplicate. Move slightly to the side. See my tag for reference. Merge blossoms together. Duplicate/Mirror/Flip.
Copy and paste the Hummingbird as a new layer. Resize 40% and position so it appears to be flying near the flower. Duplicate/Mirror. Position near the other set of flowers.
Copy and paste a butterfly of choice. Resize to a size you like and position on your canvas where you choose.
Copy and paste Peach Beads as a new layer. Resize 25%. Move toward the bottom of your frame. In your layers pallet move beneath the merge frame layer. Use your Pick Tool to turn slightly to the right.
Add your all your copyrights.
Add your name.
Foreground: 935926
Background set to pattern: Use Paper of Choice
The bevel I used for my name is:
Bevel: 2
Width: 20
Smoothness: 17
Depth: 3
Ambience: 0
Shininess: 14
Color: white
Angle: 248
Intensity: 28
Elevation: 63
Hope you enjoyed this tutorial.
I would love to see your results.
Email
me.
Hugs,
Bev