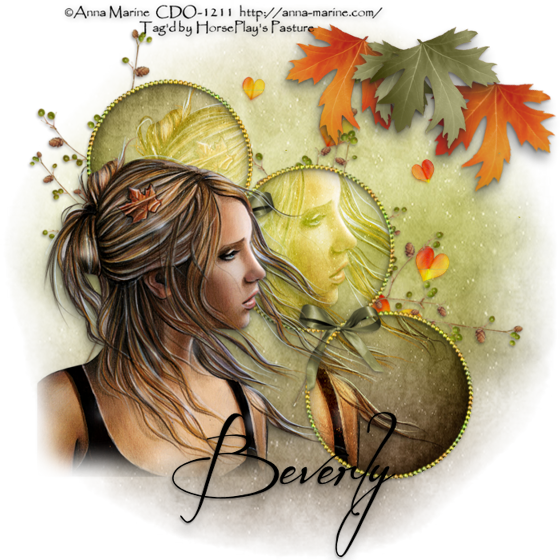 Supplies
1 tube of choice - I used the beautiful artwork of Anna Marine which can be purchased at
CDO
. You need a license to use.
Font of choice - I used Before the Rain
here
Monti Circular Mask
here
Pattern
here
. Install in your Patterns Folder. If you know who made this pattern please email me so I can give proper credit. Thanks.
"Thankful Hearts" is a FTU tagger size scrap kit created by me, Bev of HorsePlay's Pasture Designs and can be downloaded from my designer blog
here
.
Leaving a thank you after downloading is hugely appreciated but not mandatory.
This tutorial was written assuming you have a working knowledge of PSP.
~♥~ Let's get started ~♥~
Open up a 700 x 700 blank canvas.
Flood fill white.
Copy and paste 17 as a new layer.
Resize 90%
Click inside of each circle with your Magic Wand - be sure to click inside the bows that are within the circles.
Selections/Modify/Expand by 3.
New Raster layer below the frame.
Copy and paste Paper 14 Into Selection.
Copy and paste your tube as a new layer below the frame.
Selections/Invert
Tap the delete key.
Deselect.
Change the Properties to Overlay.
Copy and paste your tube as a new layer.
Position slightly to the left of the frame.
Copy and paste 40 as a new layer.
In your color pallet set it to Pattern and look for bkpat14
Angle: 0
Scale: 100
Use your Target Tool and change the color of the hearts to this pattern.
Adjust/Brightness Contrast/Brightness/Contrast:
Brightness: -54
Contrast: 32
OK
Add your elements. I used:
24: Resize 75%/Free rotate Left 85 degrees/Position behind the top circle/Duplicate/Position behind the middle circle/Duplicate/Free rotate Right 90 degrees/Position behind the bottom circle.
25: Resize 35%/Duplciate/Mirror/Free rotate Right 25 degrees
26: Resize 35%/Duplicate/Mirror/Resize 70%
Highlight your white canvas.
New Raster layer.
Select All.
Copy and paste Paper 17 Into Selection.
Deselect.
Apply the mask.
Merge Group.
Add your copyrights.
Add your name.
Resize all layers 80%.
I hope you enjoyed this tutorial.
I'd love to see your results.
Email me!
Hugs,
Bev