Clicking on the image will take you to the tutorial.
Supplies
1 tube of choice - I'm using the wonderful artwork of Elias Chatzoudis which you can purchase
here.
Font of Choice - I used Nashville
here
and SwingSet BB
here
Weescotlass Mask 138
here
"Endless Love" is a PTU tagger size scrap kit created by Jen of
C.C. Creationz
and can be purchased from her store
Scrappin' Dollars
.
Thank you Jen for this beautiful kit that sent my mojo into action right off!
This tutorial was written assuming you have a working knowledge of PSP.
~♥~ Let's get started ~♥~
Open up a 700 X 700 blank canvas.
Flood fill white.
Copy and paste Frame 1 as a new layer.
Use your Magic Wand and click inside of each frame.
Selections/Modify/Expand by 6.
New Raster layer below the frame.
Copy and paste a paper of choice Into Selection.
Deselect.
Copy and paste your tube as a new layer.
Add your embellishments. I used:
Sunflower 1: Resize 40%
Sunflower 2: Resize 35%
Single Rose 1
Single Rose 3
Heart 4: Resize 50% Free rotate left 15 degrees. Duplicate/Mirror/Resize 80% 
Using the Nashville font type out the words "Hippity Hoppity" and position over the top of the frame.
Give it a slight inner bevel: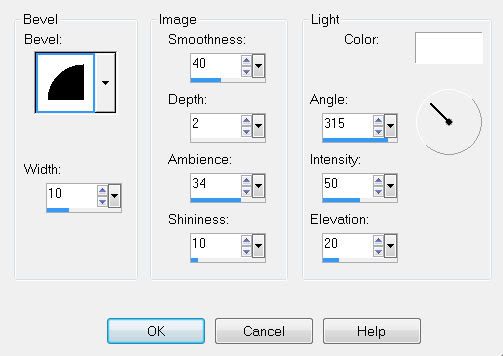 Type out "Look who's on his way" and position at the bottom.
Apply the same inner bevel.
Crop your image.
Highlight your white background.
Select All.
Copy and paste a paper of choice Into Selection.
Deselect.
Apply the mask.
Merge Group.
Add your copyrights.
Add your name using the SwingSet font.
Give it the same inner bevel.
Resize all layers 80%
I hope you enjoyed this tutorial.
I'd love to see your results and show it off in my gallery.
Email
me!
Hugs,
Bev