Clicking on the image will allow you to enlarge for bigger view.
Supplies
1 tube of choice - I used the artwork of Jennifer Janesko which can now be found at
CDO
Font of Choice - I used Jellyka Castle's Queen
here
Gem's Mask 161
here
"Angel" is a FTU scrap kit created by Diane of Candy's Treats and can be downloaded from her blog
here
.
Please leave a thank you when downloading as it's a very small gesture for hard work given freely.
This tutorial was written assuming you have a working knowledge of PSP.
~♥~ Let's get started ~♥~
Open up a 700 x 700 blank canvas.
Flood fill white.
Copy and paste Angle Torn Frame 3 as a new layer.
Move it up slightly on your canvas.
Click inside of each square with your Magic Wand.
Selections/Modify/Expand by 6.
New Raster layer below the frame.
Copy and paste Paper 9 Into Selection.
Deselect.
Close out your white canvas.
Merge Visible.
Reopen your white canvas.
Copy and paste your tube as a new layer.
Add your embellishments. I used:
Lace
Glitter Circle
Bow 1: Resize 80%
Winged Heart: Resize 70%/Mirror/change the Properties to Overlay/Duplicate/Lower the Opacity to about 20
Clouds
Highlight your white background.
New Raster layer.
Select All.
Copy and paste Block 1 Into Selection.
Deselect.
Apply the mask.
Merge Group.
Add your credits.
Add your name.
Give it a slight Inner Bevel: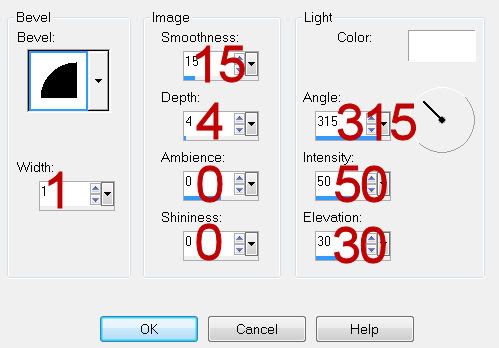 Resize all layers 80%.
I hope you enjoyed this tutorial.
I'd love to see your results and show it off in my gallery.
Email
me!
Hugs,
Bev