1 tube of choice – I used the artwork of Jose Cano which can be purchased from
PSP Tubes Emporium
. You must have a license to use.
Font of choice - I used Before the Rain
here
I used the following scripts and overlays which were created by Chris of
Katelynn's Designs
to make all the elements in this tutorial:
Be sure to stop by Chris' blog to check out more of her awesome work and find links to her stores for purchase.
This tutorial was written assuming you have a working knowledge of PSP.
~
♥
~ Let
'
s get started ~
♥
~
This is the color pallet I chose to use:
Run all scripts to create the elements. Create 2 starfish, each a different color.
If you don't know how to run a script go here for a written tutorial. It's quite easy and running a script is always so amazing to sit back and watch!
Use the Beach Water 7 Overlay on an 800 x 800 canvas using the blue color from my color pallet.
Once you have all scripts run and saved as PNG's flood fill a 700 x 700 blank canvas with #ffffff.
Copy and paste Life Saver as a new layer.
Click inside of it with your Magic Wand.
Selections/Modify/Expand by 4.
New Raster layer below the frame.
Copy and paste the Overlay Into Selection.
Arrange the rest of the elements using my tag as reference.
Dock: Resize 25% and 60% (erase what overhangs the lifesaver)
Lilly Pad: Resize 10%/Duplicate/Mirror
Starfish: Resize 10% and 60%/Duplicate/Mirror
The other starfish: Resize 10% and 30%/Mirror
Copy and paste your tube as a new layer.
To make the paper for the background:
New Raster layer above the white background.
Make your Freehand Selection Tool active set on Freehand.
Section off your canvas but make the top of the line squiggly a bit, not blunt and straight.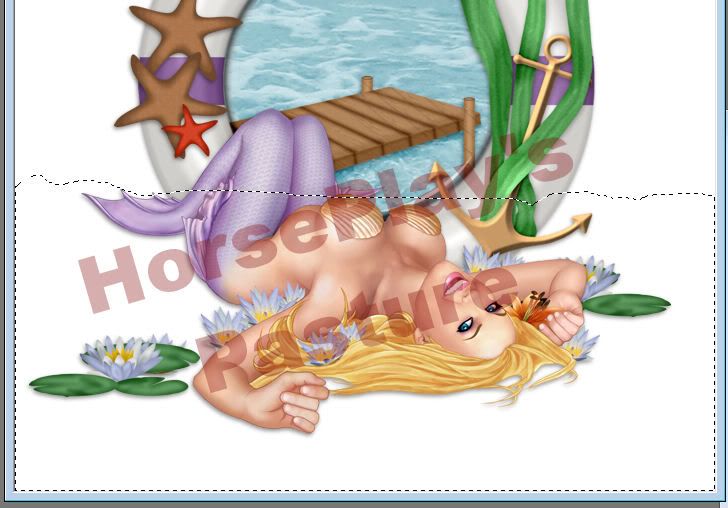 Apply Mura's Meister – Cloud:
Selections/Modify/Inside Outside Feather:
Tap the delete key about 4 times.
This will be your sand layer.
Highlight your white background.
Apply Mura's Meister – Cloud:
This will be your sky layer.
Merge Visible the sky and sand layers.
Give it a slight Inner Bevel: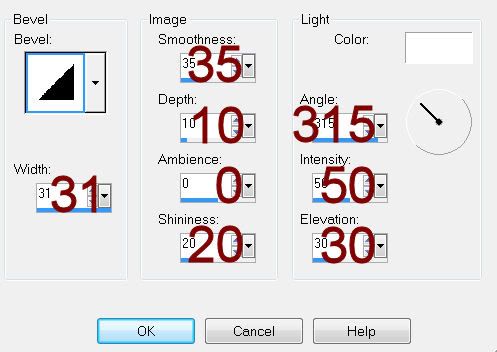 I'd love to see your results.

Email
me!
Hugs,
Bev