Clicking on the image will enlarge to full view.
Supplies
1 tube of choice - I used the beautiful artwork of Genniday Koufay at
CILM
Font of Choice - I used Oh Lara - a pay font
Gem's Mask 161
here
"Sunflower Patch" is a PTU tagger size scrap kit created by Julie of Bits n Bobs and can be purchased at
Exquisite Scraps
. You can visit her blog
here
.
Thank you Julie for such a beautiful kit with that old time feel! I absolutely love this one!!
This tutorial was written assuming you have a working knowledge of PSP.
~♥~ Let's get started ~♥~
Open up a 700 X 700 blank canvas.
Flood fill white.
Copy and paste SP 63 as a new layer.
Use your Selection Tool and section out a square:
New Raster layer below the frame.
Copy and paste Paper 3 Into Selection.
Selections/Modify/Feather
Number of Pixels:
43
OK
Selections/Invert
Tap the delete key twice.
Deselect.
Be sure you're still highlighted on the paper layer:
Adjust/Brightness and Contrast
Brightness/Contrast
Brightness: -10
Contrast: 5
OK
Apply the Brightness/Contrast once more.
Copy and paste your tube as a new layer.
Add your embellishments. I used:
SP-20: Mirror
SP-8
SP-9: Mirror
Sp-22
SP-57
Crop your Image.
Highlight your white background.
New Raster layer.
Select All.
Copy and paste a paper of choice Into Selection.
Deselect.
Apply the mask.
Merge Group.
Add your copyrights.
Add your name.
Give it a slight inner bevel: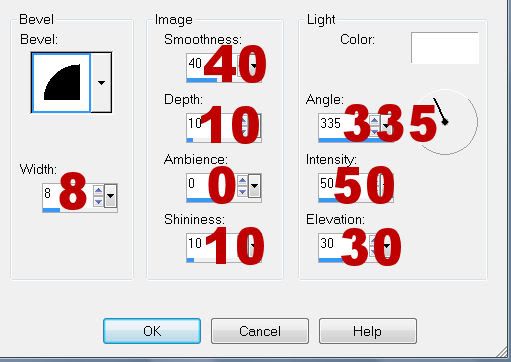 Resize all layers 85%.
I hope you enjoyed this tutorial.
I'd love to see your results and show it off in my gallery.
Email
me!
Hugs,
Bev