Clicking on the image will enlarge to full view.

Supplies
1 tube of choice - I used the beautiful artwork of Gennadiy Koufay. The artist no longer sells at CILM. If anyone knows where this artist is selling his work will you please email me. Thanks!
Font of Choice - I used Bonheur Royale
Weescotlass Mask 297
here
"Lost Romance" is a FTU scrap kit created by Scrap Dimensions and can be downloaded from her blog
here
. Please leave a thank you when downloading.
It's a small gesture for hard work given freely.

This tutorial was written assuming you have a working knowledge of PSP.

~♥~ Let's get started ~♥~

Open up a transparent 700 X 700 image.
Flood fill white.

Copy and paste the Mirror as a new image.
Resize 70%.

Add your embellishments. I used:
Branch 1: Resize 50%
Candle: Resize 25%. Duplicate, resize 80%
Box: Resize 25%
Key: Resize 25% and 70% Free rotate right 85 degrees
Feather: Resize 25% and 70% Free rotate right 40 degrees
Dragonfly 2: Resize 25% Free rotate right 30 degrees
Dragonfly 2: Resize 25% Free rotate left 30 degrees
Sofa: 25%
Umbrella: Resize 70%

Copy and paste your tube as a new layer.

Highlight your white background.
New Raster layer.
Select All
Copy and paste a paper of choice Into Selection.
Deselect.
Merge Group.

I wanted my tube and the candles' reflection in the mirror:
Duplicate/Mirror only the things you wanted reflected in the mirror.
Rename them. I renamed mine:
Mirror Tube
Mirror Candle 1
Mirror Candle 2
Close out all the layers that are in the way of the mirror.
Using your Freehand Selection Tool outline the mirror: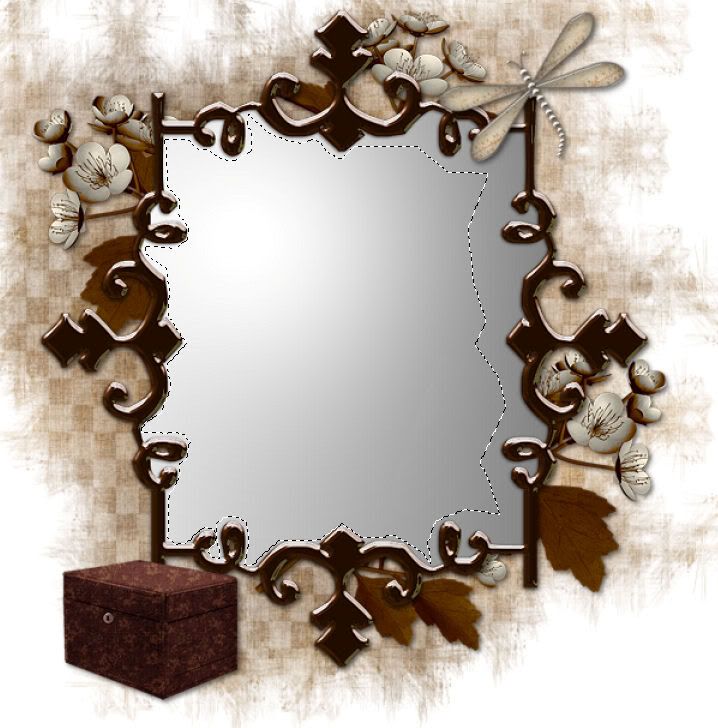 Open up the layers that are to be the reflections.
Selections/Modify/Feather
Number of pixels: 53
OK
Selections/Invert
Highlight each layer and tap the delete key until you have the feathered look you want.
Lower the opacity to around 26 - 31 or so.
Tip: Be sure the "mirrored images" are beneath the images outside the mirror in your layers pallet.

Add your copyrights.

Add your name.

Crop your image.

Resize all layers 80%.

I hope you enjoyed this tutorial.
I'd love to see your results and show it off in my Show Arena.
Hugs,
Bev