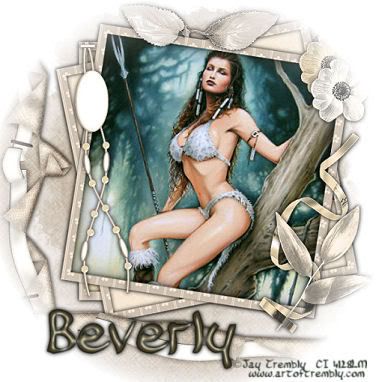 Supplies Needed
1 image of choice – I'm using the artwork of Jay Trembly
which you can purchase
here
Font of choice - I'm using O'Connor
here
Becky Mask 22
20-20 Mask
"Au Naturelle" PTU tagger kit by Ivory's Designs which can be found
here
. You can visit her blog
here
.
This tutorial was written assuming you have working knowledge of PSP.
~♥~ Let's get started ~♥~
Open a 600 X 600 transparent canvas. Flood fill white.
Copy and paste Edging 3 as a new layer. Resize 75% and move into the lower left corner of your white canvas.
Copy and paste Frame 2 as a new layer. Resize 90%. Use your magic wand and click inside the small areas around the main frame. Selections/Modify/Expand by 6. Copy and paste paper of choice, invert, and hit the delete button. Deselect.
Use your magic wand again and click inside main frame. Copy and paste your image as a new layer. Invert. Hit the delete button. Close out your white canvas layer and Edging Layer. Merge visible. Open the layers back up and center your merged frame layer in the opening of the canvas.
Add the elements you like: I used Fern 3 – resize 50%. Bead String. Flower 1, 2, and 3 – resized 25% and 80%. Curled Ribbon 3 – resized 50%. Leaf Spring 2 – resize 50% and flipped.
Highlight your white canvas. New Raster layer. Copy and pate paper of choice Into Selection. Deselect. Apply your Becky mask. Merge group. Center the mask beneath the frame.
Close out your white canvas and merge visible. Apply your 20-20 mask. Duplicate 5 times. Merge layers.
Add your copyrights.
Add your name. I added an inner bevel to mine:
Bevel: 2
Width: 7
Smoothness: 55
Depth: 16
Ambience: -27
Shininess: 45
Color: white
Angle: 135
Intensity: 31
Elevation: 88
I hope you enjoyed this tutorial.
I would love to see your results and put them into my gallery.
Email
me!
Hugs,
Bev