Supplies
1 tube of choice - I used the adorable artwork of Lisa Victoria and can be purchased from
Up Your Art
. You must have a license to use.
Font of choice - I used Inspiration
here
Weescotlass Mask 249
here
"Farewell Summer" is a tagger size scrap kit created by me, HorsePlay's Pasture Designs and can be purchased from any of my stores
Lollipops n Gumdrops
,
TKO Scraps
,
Butterfly Blush Designs
, and
Inspirations of Scrap Friends
. You can visit my designing blog here.
This tutorial was written assuming you have a working knowledge of PSP.
~♥~ Let's get started ~♥~
Open up a 700 x 700 blank canvas.
Flood fill white.
Copy and paste 44 as a new layer.
Resize 75%
Free rotate Left 5 degrees.
Click inside of it with your Magic Wand.
Selections/Modify/Expand by 4.
Copy and paste Paper 9 as a new layer below the frame.
Resize 50%
Move into position.
Selections/Invert
Tap the delete key.
Deselect.
Add your embellishments. I used:
24: Resize 25% and 70%
31: Resize 75%
23: Resize 70%
33: Resize 40%
46: Resize 50%
21: Resize 85%
5: Resize 25%
9: Resize 25% and 70%
27: Resize 70%/Free rotate Left 90 degrees
36
29: Resize 60%
Copy and paste your tube as a new layer.
If you're using the tube I did then resize 50% and 90%
Highlight your white canvas.
New Raster layer.
Select All.
Copy and paste Paper 3 Into Selection.
Deselect.
Apply the mask.
Use your Pick Tool and pull the sides out slightly and center the mask behind the tag.
Merge Group.
Crop your image but look closely and try not to crop the feathery edges of the mask.
Add your copyrights.
Add your name.
Open up 33.
Use your Selection Tool and section out an area of the seat of the swing
Color Pallet -
Foreground: #49220f
Background: Pattern/use the section of the swing
Type your name.
Convert to Raster layer.
Give it a slight Inner Bevel: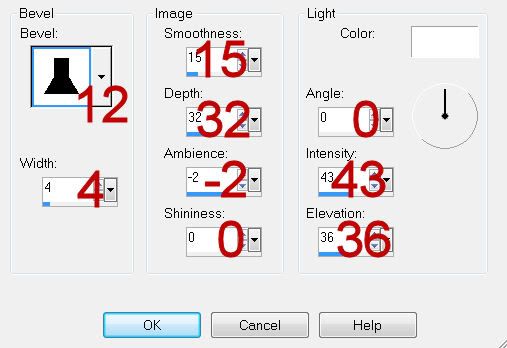 Resize all layers 80%.
I hope you enjoyed this tutorial.
I'd love to see your results and show it off in my gallery.
Email me!
Hugs,
Bev