1 tube of choice – I used the wonderful artwork of Christina Lank which can be purchased from
PSPTube Stop
. You must have a license to use.
Font of choice – I used Romance Fatal Serif
here
Which include template, elements, and mask
These supplies are to be used for this tutorial only.
This tutorial was written assuming you have working knowledge of PSP.
~
♥
~ Let's get started ~
♥
~
Highlight Raster 2 layer.
Click on it with your Magic Wand.
Adjust/Add Remove Noise/Add Noise:
Delete the template layer.
Highlight Raster 3 layer.
Click anywhere outside of it with your Magic Wand.
Flood fill with Gradient.
Lock the layer by clicking on the lock icon at the top of your layers pallet.
Adjust/Blur/Gaussian Blur:
Click the lock icon again to unlock the layer.
Change the Properties to Multiply
Apply

VM Natural – Sparkle:
Use Default settings accept move the Random Seed button to get the star look you want.
Copy and paste your tube as a new layer.
If you're using the same one as I did, Resize 65% and snug nicely into the bottom right corner of the gradient layer.
Add your elements I supplied and resize as follows:
Flower: Duplicate/Resize 85%/Duplicate/Resize 70%
Doodle: Duplicate/Mirror/Flip
Highlight your white canvas (Raster 1)
Paste your tube as a new layer. If you're using the same tube as I did, resize to 65%.
Apply Mura's Meister – Copies:
Choose Wallpaper – Rotate –
If you can see any of the white canvas after applying Mura's Meister - Copies then duplicates the layer and move to cover the gap.
Merge Visible both Mura's Meister Copies layers.
Tap the letter K on your keyboard to activate the Pick Tool and pull the sides in – see my tag for reference.
Give it a slight Inner Bevel: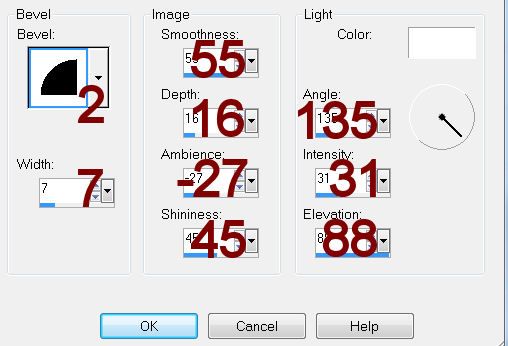 Selections/Modify/Expand by 2.
New Raster layer below your name.
Merge Visible both name layers.
I'd love to see your results.