Supplies
1 tube of choice - I used the artwork of Dean Yeagle which can now be purchased from
CDO
. You must have a license to use.
Font of choice - I used Harabara Hand Italic
here
Weescotlass mask 96
here
Mura's Meister - Copies
Mura's Meister - Cloud
"Honeysuckle & Roses " is a scrap kit collaboration in both tagger and full size available at
TKO Scraps.
This entire collaboration has 468 elements, 3 Alpha's, and 160 Papers. Tagger size is $3. Full size is $10 or free with an $8. This is one sweet deal the store is having and I would highly recommend taking advantage of it. Each designer's portion is gorgeous! For this tutorial I'm using the portion of Sweet Cravings Scraps. You can visit her blog
here
. Thank you Kara for your beautiful portion of this collab!
This tutorial was written assuming you have a working knowledge of PSP.
~♥~ Let's get started ~♥~
Open up a 700 x 700 blank canvas.
Flood fill white.
Make your Selection Tool active set on Circle.
Make a circle approximately 425 pixels.
New Raster layer.
Open up Paper 2.
Choose a dark blue shade for your foreground color.
Choose a light shade for your background color.
Make your working canvas active.
Apply Mura's Meister Cloud:
Click Reset button.
Click OK.
Your circle should now be filled with a cloud pattern.
Deselect.
Center the circle on your canvas.
Copy and paste Flower 2 as a new layer.
Resize 25% and 80%
Apply Mura's Meister - Copies.
Choose Encircle and use default settings.
OK
Resize 120%
Move into position over the circle paper.
Copy and paste your tube as a new layer.
Add your embellishments. I used:
Flower Doodle 1: Resize 40%/Duplicate/Mirror
Cute Dragonfly: Resize 25%
Butterfly 3: Resize 25% and 60%
Cute Puppy: Resize 30%
Highlight your white canvas.
New Raster layer.
Select All.
Copy and paste Paper 7 Into Selection.
Deselect.
Apply the mask.
Resize 120%
Merge Group.
Add your copyrights.
Add your name:
Give it a slight Inner Bevel: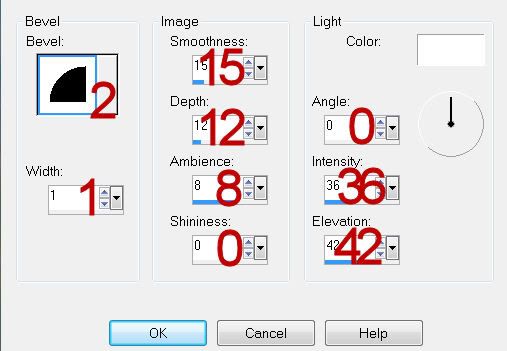 Resize all layers 80%
I hope you enjoyed this tutorial.
I'd love to see your results and show it off in my gallery.
Email me!
Hugs,
Bev