Clicking on the image will enlarge to full view.
Supplies
1 tube of choice - I'm using the wonderful artwork of Elias Chatzoudis at
MPT
Font of Choice - I'm using Bonheur - so sorry I can't find a link
Becky Mask 9
here
Eyecandy 5 - Impact: Gradient Glow
"Rock Princess" is a PTU scrap kit created by Julie of Bits n Bobs and can be purchased at
Exquisite Scraps
. You can visit her blog
here
.
Thank you Julie for another fabulous kit!
This tutorial was written assuming you have a working knowledge of PSP.
~♥~ Let's get started ~♥~
Open up a transparent 700 X 700 canvas.
Flood Fill white.
Copy and paste Element 50 as a new layer.
Resize 80%
Click inside with your Magic Wand.
Selections/Modify/Expand by 6
New Raster layer below the frame.
Flood fill with a gradient of choice.
Copy and paste your tube as a new layer below the frame layer - Don't resize your tube too small.
Selections/Invert
Tap the delete key.
Deselect.
Change the Properties to Soft Light.
Copy and paste your tube as a new layer.
Position it outside the frame.
Add your embellishments. I used:
Element 19
Element 12: Resize 70%
Element 45: Resize 70%
Element 1: Resize 60% Duplicate
Element 27: Resize 30% Duplicate/Resize 70%
Element 26: Resize 40% Free rotate right 20 degrees
Element 26 again: Resize 40% and 60%  
Highlight your white background.
New Raster layer.
Select All.
Copy and paste a paper of choice Into Selection.
Deselect.
Apply the mask.
Merge Group.
Add your copyrights.
Add your name.
Give it a slight inner bevel: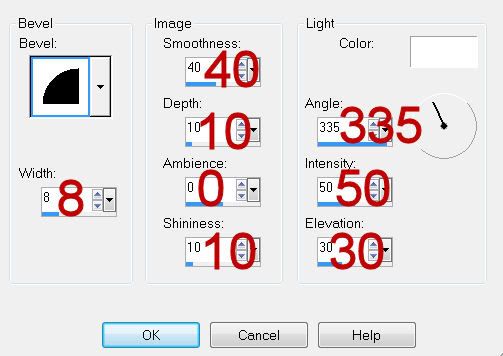 Apply Eyecandy 5: Impact - Gradient Glow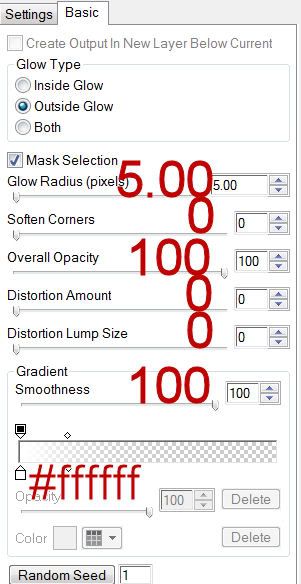 Apply the glow 2 more times.
I hope you enjoyed this tutorial.
I'd love to see your results and show it off in my gallery.
Email
me!
Hugs,
Bev